Opinions on Debatable Issues 

#4
The No Child Left Behind Act (NCLB) is a reauthorization of the Elementary and Secondary Education Act. Its main purpose is to improve education for all American students. The U.S. Department of Education emphasizes the Act's operation following 4 pillars:
Accountability: to ensure those students who are disadvantaged achieve academic proficiency.
Flexibility: Allows school districts flexibility in how they use federal education funds to improve student achievement.
Research-based education: Emphasizes educational programs and practices that have been proven effective through scientific research.
Parent options: Increases the choices available to the parents of students attending Title I schools.
The goal is ideal but unrealistic. The implementation of NCLB made no significant improvements in students' academic performance when a huge amount of U.S. funds and resources were used for its sake.
Under the NCLB law, states must test and report students in reading and math in grades 3 through 8 and once in high school for both the student population as a whole and for particular "subgroups" of students, including English-learners and students in special education, racial minorities, and children from low-income families. States were also required to bring all students to the "proficient level". However, no definition of "proficiency" was given from the federal government, so each state got to decide, individually, what "proficiency" should look like, and which tests to use for determination. This gives the states unbounded freedom to interpret the expectation and decide how to operate. Usually, that results in states implementing ineffective or even detrimental policies that are subjective and prone to manipulation to avoid the sanctions imposed by federal intervention without bringing actual improvement to students' academic performance.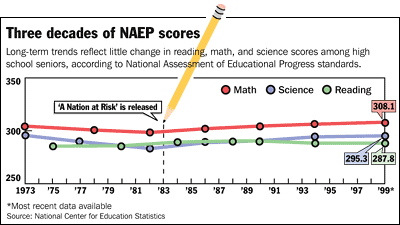 Furthermore, NCLB stipulates that if a school misses AYP, which is a mechanism known as "adequate yearly progress" to keep track of the progress made by states, for two years in a row, it has to allow students to transfer to a better-performing public school in the same district. If it misses three years in a row, the school must offer free tutoring. However, in reality, students often did not take advantage of the opportunity to transfer to another school or get free tutoring when schools fail to meet the AYP. Simply put, many states found that goal to be unrealistic and got around them in practice. They either created "super subgroups" that lumped all disadvantaged students together or integrating more subjective measures like parent/teacher involvement.
Moreover, NCLB requires states to ensure their teachers are "highly qualified," which generally means that they have a bachelor's degree in the subject they are teaching and state certification. States are also supposed to ensure that "highly qualified' teachers are evenly distributed among schools with high concentrations of poverty and wealthier schools. However, "loopholes in alternative-certification programs and the proliferation of emergency certification to fill teaching shortages have made the goal of high quality impossible to achieve". For example, The U.S. Department of Education found in 2013-14 that of the 37,270 individuals in Texas that enrolled in teacher-training programs in Texas, more than 15,000 were in alternative programs unaffiliated with any university. Those unqualified teachers are still getting jobs and teaching students after the implementation of NCLB, which is, thus, proven to be ineffectual. The consequence is obvious: Texas had its highest number of cases of teacher misconduct in nearly a decade (222 investigations in the 2016 fiscal year) and the Texas Education Agency asked for additional funding to investigate more than 1,100 backlogged allegations. Flawed teacher-recruiting programs were also found to cause a consistent decline in student achievement, particularly for minority students, in Texas. Saliently, NCLB does not provide qualified teachers, which is unbeneficial to the U.S. educational system.
In addition, NCLB is a costly investment that yields no return. Due to NCLB, The Federal education funding into the Education Department has increased by 63. 8% from 2000 to 2010, which is an addition of $24.6 billion to its budget, according to the Education Department Web site. However, there has been little improvement in America's test scores and an overall further diminishment of U.S. education on the world stage. "Results from the Nation's Report Card from the Education Department says for 4th Grade reading proficiency in 2002 found 38 percent below basic, 32 percent basic, 23 percent proficient and 6 percent advanced. In 2009 for reading, 34 percent were below basic, 34 percent at basic, 24 percent at proficient, and 7 percent at advanced." No change in score occurred for 8th graders was seen as well. More evidence is corroborating this lack of improvement in intelligence and academic knowledge: In 2000, when the Programme for International Student Assessment was administered for the first time, the U.S. ranked 15th in reading and 19th in math according to the Organization for Economic Cooperation and Development. Nevertheless, in 2010, U.S. students ranked 14th place in reading literacy among OECD nations and ranked 25th in Math. Not only that no significant improvement in reading skills was made, Mathamateic performance of U.S. students plummeted drastically. There is no way that this can be called as beneficial and effective. To state bluntly, the NCLB act is a big waste of money.
Lastly, sanctions that are imposed are another big flaw of NCLB. Due to the lack of progress, many schools became subject to sanctions, which includes firing the principal and most of the staff, converting to a charter school, lengthening the school day or year, or closing down the school entirely. Though designed to pressure schools into making substantial changes, the sanctions do not help the school to provide better education to students when put into practice. An analysis of the law's effects in North Carolina suggests that the threat of sanctions generally can only temporarily goose test scores, no substantial school improvement was made in the long term. This is supported by the fact that 29 percent of the schools failed to meet the AYP in 2006. But after the sanctions were imposed, 38 percent of schools were failing to make adequate yearly progress in 2010. This increase of 9% of failing states in 4 years cannot be stronger to suggest the uselessness of those sanctions.
Sources:
Check out other Opinions on Debatable Issues:
- Nature vs. Nurture
https://mypathtowardsmindfulness.org/2020/07/09/nature-vs-nurture/
- The "Weaknesses" of DACA
https://mypathtowardsmindfulness.org/2020/08/25/the-weaknesses-of-daca/
- Why the US Should Hold Onto USPS
https://mypathtowardsmindfulness.org/2020/09/01/why-the-us-should-hold-onto-usps/ 
- The Fairness of Progressive Taxes
https://mypathtowardsmindfulness.org/2020/09/12/the-fairness-of-progressive-taxes/ 
- The United States Elections Should NOT be Run as a "Lottocracy".
https://mypathtowardsmindfulness.org/2020/09/26/the-united-states-elections-should-not-be-run-as-a-lottocracy/
- Parents Should NOT be Given the Legal Rights to Refuse Medical Treatments for Children
https://mypathtowardsmindfulness.org/2020/10/03/parents-should-not-be-given-the-legal-rights-to-refuse-medical-treatments-for-children/
- Roe v. Wade: Why the Current Ruling is both Unconstitutional and Unethical
https://mypathtowardsmindfulness.org/2020/10/10/roe-v-wade-why-the-current-ruling-is-both-unconstitutional-and-unethical/
- Halloween Amidst the Pandemic. Yes or No?
https://mypathtowardsmindfulness.org/2020/10/24/halloween-amidst-the-pandemic-yes-or-no/
- Is it truly ideal and effective to keep children from online dangers by allowing parents to monitor their social media accounts?
https://mypathtowardsmindfulness.org/2020/11/07/is-it-truly-ideal-and-effective-to-keep-children-from-online-dangers-by-allowing-parents-to-monitor-their-social-media-accounts/
- Defending Patriotism
https://mypathtowardsmindfulness.org/2020/11/14/defending-patriotism/
- Funding the Defenders: Not Enough to Curb the Abuse of Prosecutorial Power
https://mypathtowardsmindfulness.org/?p=642 
- Thanksgiving is WORTH Celebrating, Even in Light of Its Origin
https://mypathtowardsmindfulness.org/2020/11/28/thanksgiving-is-worth-celebrating-even-in-light-of-its-origin/ 
- No-First-Use (NFU) of Nuclear Weapons is NECESSARY
https://mypathtowardsmindfulness.org/2020/12/05/no-first-use-nfu-of-nuclear-weapons-is-necessary/
- Governmental Regulations on Social Media: Necessary and Constitutional
https://mypathtowardsmindfulness.org/2020/12/12/governmental-regulations-on-social-media-necessary-and-constitutional/ 
- New Year Resolutions are Ineffective. Find Yourself a Better Alternative. 
https://mypathtowardsmindfulness.org/2021/01/09/new-year-resolutions-are-ineffective-find-yourself-a-better-alternative/]
- Unions help workers obtaining better terms of employment, but what are their downsides?https://mypathtowardsmindfulness.org/2021/01/30/unions-help-workers-obtaining-better-terms-of-employment-but-what-are-their-downsides/
-Helicopter Parenting v. Free-Range Parenting: Which is better?  https://mypathtowardsmindfulness.org/2021/02/06/helicopter-parenting-v-free-range-parenting-which-is-better/
-Online Shopping Has Taken Over Our Lives, But is it Actually Better Than In-Store Shopping?https://mypathtowardsmindfulness.org/2021/02/14/online-shopping-has-taken-over-our-lives-but-is-it-actually-better-than-in-store-shopping/